F913 PUY Restoration (1999)
This is the first page of the restoration of F913 PUY. As you can see nothing really happened during the first 4 months, but after the Christmas Holidays things started going in 2000.
08th November 1999
I've finally removed the other two steps (one side and one back) and the Dixon Bate towbar, and the rear crossmember has been completely de-rusted and primered ready for some black paint. And another quarter of the chassis is black.
21st October 1999
Mmmm. Another month and a bit and not much has happened. My dad keeps pinching it, so I'm not getting a lot done. But I have removed one of the two side steps and painted half of the chassis black. And one wheel is pink (anti-rust paint). But then he ran off with it again...
28th September 1999
Well, this month I've done nothing. Except pressure wash it, and driving it in a field full of ruts. Which was fun. But our new garage is nearly finished, so I should actually start doing something constructive (or destructive).
28th August 1999
I've returned from holiday to find that my Landy has passed another MoT. And the bloke from the local garage has done something to the engine, because it's going faster....
11th August 1999
Wahey!!! I've bought a Land Rover!!!
I am now the proud owner of F913 PUY, a blue 90 TD hardtop: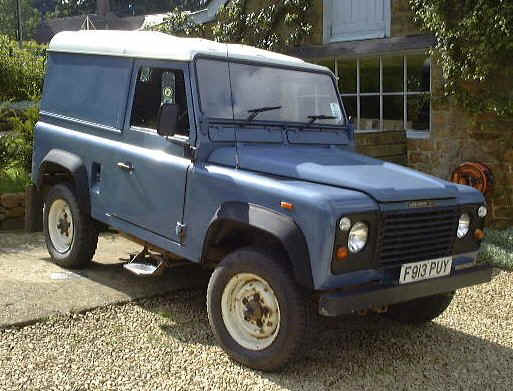 It's got 113k miles, but the furthest off-road it's been is a camp site, and it was used for towing a caravan up and down the motorway. It's got all the receipts for work done to it, and all the MoT Certificates since 1992.
The main reasons for me to choose the 90 over a Series IIA/III are that the ride's much more comfortable, thanks to the coil springs, it's (probably) quieter, it's newer, and hopefully therefore there's less to go wrong, and I want to turn it into a NAS 90/90 SV type Land Rover.
The plan over the next year is to clean it up completely, remove the hardtop, fit an internal/external rollcage like on the NAS-spec V8 90s, respray it in Land Rover Atlantis Blue (as on the 50th Anniversary 90s), get a mohair soft top from All Wheel Trim, fit complete sound deadening, retrim the interior, fit 4 rear seats, add an A-bar and driving lights, get a special rear door and wheel carrier, and fit some alloy wheels and 265R16 tyres. Oh, and the gearbox needs overhauling.....
So, you can see that there's lots to do before September 2000, but I've already started digging 11 years worth of mud out of the chassis, and I've got loads of ideas to try out....
If anyone has any suggestions/comments/queries/money please e-mail them to me
Also, if anyone knows any good suppliers for parts (especially the alloy wheels) or even if someone has some alloys that I could buy (I'd like the proper Land Rover Deep-Dish Silver jobbies), please contact me...